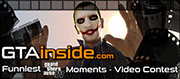 Some weeks ago, our GTA IV funniest moments video contest has started. Lots of funny videos were send to us and we would like to present you the best videos now: The first prize goes to Roman A. from Germany for his video "Gags and Funny Stuff":
Roman, we wish you a lot of fun with the exclusive "Vice City 10th Anniversary Package" which was sponsored by Rockstar Games!
These are the videos that made ​​it to the final round of the contest:
Futhermore, we would like to thank all who have submitted a video. Attention: This was not the last contest on GTAinside. Stay tuned for more special and exclusive prizes!