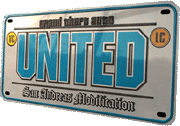 After the last version of the GTA San Andreas modification "Grand Theft Auto United" was released on the 5th of April 2008 by 13 o'clock central european time, much time has passed and for a long time the question was asked whether there would ever be a new version of GTA United or not.
This question can finally be answered, because here and today on the 16th of December 2012, we present you with the developers "GTA United 1.2", the latest version of the modification, which can be viewed as largest milestone from this modification. You can watch this also in a new release trailer.

Alternative: Vimeo.com

The maps of GTA III and GTA Vice City together on the basis of GTA San Andreas, with countless improvements and an equal number of innovative new content that will together provide a whole new experience. And the result is something that you should not miss! The modification of almost 600 MB you can now download from us and we hope you enjoy it!