News
Back

---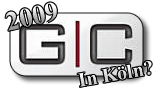 As the German magazine stern tells on their website, the Games-Convention 2009 will probably take place in Cologne. Unfortunately, Leipzig (where it takes place every year) wants to keep it in their city at any price!

Here we go with the main statement:

"The industry wants to move to Cologne", confirmed a speaker of the exposition Leipzig.
In fact, the proceedings aren't closed already. "The exposition of Leipzig owns the brand, and we won't sell it", went the speaker on after questioning of the German press-agency DPA. It is possible that the exposition agency is trying to re-adjust the Games Convention - but in another city. "The discussions are still continuing...'.

The German association of interactive entertainment sofware (BIU), an affiliate of the exposition, informed that there is no decision yet. "At the moment we are talking to a lot of different other exposition locations about continuation of our exposition business in the year 2008 and longer", tellls another speaker.

One reason for leaving Leipzig is that the city does not have good connections to the international flight locations. Furthermore, the hotel capacity, especially for luxery hotels, is too low and restricted for them. On the other hand Cologne is an important location for the videogame industry. You can also find the German establishment of Electronic Arts (the worlds biggest videogame producer) in Cologne.

"There is no criticism on the exposition of Leipzig - nearly the opposite", mentions the expo speaker.

The 'Games-Convention' (took place for the first time in 2002) became to one of the most important expositions in Europe in it' genre. In 2007, it attracted approx. 185.000 visitors to Leipzig. Because of this unbelievable success, a lot of other exposition agencies announced their interest.

This year, the 'Games Convention' will run from 08/20/08 to 08/24/08 in Leipzig.
Recent News
More