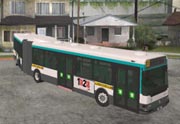 Heute haben wir mal wieder ein interessantes Download-Update für unsere Besucher zusammengestellt. Wenn ihr also schicke Autos, Gelenkbusse, Sattelschlepper, Monstertrucks, Sega oder I, Robot mögt, dann ab in den Downloadbereich!
CARS:
- Renault Agora L Citybus (GTA:SA) (-> Busse)
- Auflieger Skinpack (GTA:SA) (-> Trucks)
- Chevrolet Blazer K5 '86 Monster Edition (GTA:SA)
- Mercedes-Benz G500 1999 v1.1 (GTA:SA)
- 2006 Lamborghini Gallardo (GTA:SA)
- BMW 507 Roadster (GTA:SA)
- Sonic the Hedgehog Beta v. 1.0 (GTA:SA) (-> Sonstiges)
- Tails "Miles" the Fox Beta v1.0 (GTA:SA) (-> Sonstiges)
MAPS:
- Martini's City V2.0 beta (GTA:SA)
- NSC v0.2 (GTA:SA)
MODS:
- I, Robot Mod Loadscreens Realpics (GTA:SA)
Falls es bei der Installation der Files zu Problemen oder Fehlern kommen sollte, könnt ihr wie gewohnt im
Forum
Hilfe erfragen oder mit der
Board-Suche
nach eurem Problem suchen.