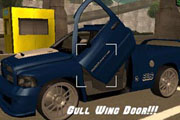 Weihnachten rückt immer näher und in den Geschäften tummeln sich noch immer zahlreiche Späteinkäufer. Wenn ihr diesem Stress aus dem Wege gehen möchtet, dann bleibt doch einfach vor dem PC sitzen und testet unsere neuen Downloads:
CARS:
- Dodge RAM SRT-10 (GTA:SA)
- 1932 Ford Roadster HotRod (GTA:SA)
- Quad Yamaha YFZ450 (GTA:SA)
MAPS:
- Doherty Map v1 (GTA:SA)
SKINS:
- Vin Diesel Skin (GTA:SA)
- Fear of the Dark T-Shirt (GTA:SA)
- G-Unit Co Shirt (GTA:SA)
Aus aktuellem Anlass möchte ich euch nochmals auf einige Richtlinien hinweisen, die für den Upload von Dateien gelten. Solltet ihr ein Modell (z.B. ein Auto, ein Quad oder ein Bike) nicht selbst gebaut, sondern lediglich für San Andreas konvertiert haben, dann benötigt ihr zur Veröffentlichung die Erlaubnis des Original-Autors. Des Weiteren muss dieser auch als Autor genannt werden. Weiterhin ist es wichtig, dass die Dateien
keine Sonderzeichen (z.B. ü, ö, ä, % etc.)
enthalten. Bitte umschreibt ein "Ü" also mit "Ue" etc. Falls neben diesen Punkten auch die Qualität der Datei stimmt, dann steht einer Veröffentlichung nichts im Wege!