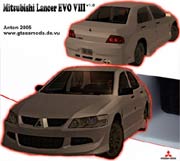 Die Woche hat begonnen und dies bedeutet auch, dass es eine ganze Woche voller neuer Downloads geben wird. Und heute geht es los:
MODS:
- VW and Audi MOD (GTA:SA)
- New Menu-Background Images (GTA:SA)
SKINS:
- Girls-Tshirt (GTA:SA)
- King of San Andreas (GTA:SA)
CARS:
- Mitsubishi Lancer EVO VIII v1.0 (GTA:SA)
- Fiat Dino Coupe 2400 (GTA3)
Viel Spaß mit den Downloads. Falls ihr noch eigene Modifikationen auf dem PC habt, die ihr veröffentlichen möchtet, könnt ihr es
hier
tun. Bei Problemen mit der Installation findet ihr natürlich in unserem
Forum
die richtige Unterstützung.