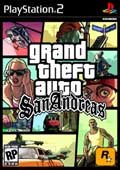 Nach kurzer San Andreas Trockenphase hat sich endlich Rockstar Games persönlich bei uns gemeldet. Ein kleines Geschenk hatten sie auch dabei, was ihr hier neben dem Text begutachten könnt. Denn heute hat Rockstar Games endlich das
offizielle San Andreas Cover
veröffentlicht. Hier die Email, die der GTA-Entwickler an uns und alle anderen großen GTA-Seiten gesendet hat:
Hey guys,

I wanted to let you know that we are about to release the official box art for Grand Theft Auto: San Andreas. As we thought you would want to see it as soon as it came out I have attached it to this mail.

Thanks for the support and let me know if you have any questions.

Webmaster@R*
Um das Cover in voller Größe zu sehen, klickt einfach auf das Bild.