News
Back


---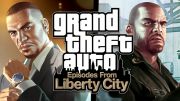 We had to wait for this a long time, but Rockstar Games has finally announced that the so far exclusive xbox360 episodes are coming to PlayStation 3 and PC gamers this March.
We are happy to announce the much anticipated release of Grand Theft Auto: Episodes from Liberty City for the PlayStation®3 computer entertainment system and Games for Windows® - LIVE on March 30, 2010. For the first time, PlayStation 3 and Games for Windows - LIVE players will have the opportunity to experience the last two thrilling chapters of the Grand Theft Auto IV saga.

The two action packed episodes will also be available for download on the PlayStation Network and Games for Windows® LIVE on March 30, 2010. Each episode boasts the same detailed and immersive Liberty City we all know and love. Games for Windows - LIVE players can enjoy 32-player multiplayer matches and an advanced video editor, and all fans will have the chance to once again listen to the dulcet tones of Liberty City Radio.


There will be different ways to purchase these episodes: As with the 360 version, you can buy the episodes separately as downloads on the PlayStation Network or Windows Live Marketplace, or buy them together on a stand alone disc. We will keep you up-to-date concerning prices and more information.
Recent News
More