News
More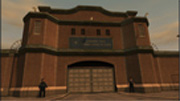 Rockstar Games recently updated again the official website of GTA IV with a satirical news at Weazel News:
Is crack still wack?

Anti-drug campaigners are horrified to learn that the parole board is considering the release of several former drug kingpins. Several of the men who ran the city into the ground in the early 1990's are now facing parole, and city officials are wondering how the notoriously capricious parole board will behave. We will stay with this story.
Nothing special, but always funny to read these little news.
Fill out this formular in order to register on GTAinside. After registration you will get access to additional functions like posting comments and your own favorite mods list! The membership is completely free.
Please fill out the whole formular and don't forget to enter a valid email address to be able to verify your account.