News
More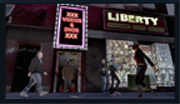 Rockstar Games recently updated the official website of GTA IV with a satirical news at Weazel News:
Polyhedral sex toy banned
Deputy Mayor Bryce Dawkins announced today that his new Family Values Task Force has fined numerous adult stores in the area for failing to remove a recently banned polyhedral sex toy, claiming that MMORPG games, board games and online teen chat rooms lead to trouble.
Always great to see how Rockstar Games keeps us interested in the official website.
Fill out this formular in order to register on GTAinside. After registration you will get access to additional functions like posting comments and your own favorite mods list! The membership is completely free.
Please fill out the whole formular and don't forget to enter a valid email address to be able to verify your account.