News
More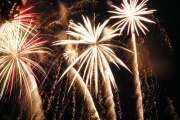 Und schon wieder neigt sich ein Jahr dem Ende. Zweifelsohne gab es auch ohne den eigentlich geplanten Release von GTA IV einiges dieses Jahr zu berichten.
Schließlich hat uns RockstarGames bereits einen kleinen Einblick in Form von Screenshots und Trailer in den kommenden vierten Teil der GTA -Serie gewährt. Aber auch die Modding -Szene war aktiver denn je und belieferte uns täglich mit vielen interessanten Mods. Darunter auch große Projekte, die teils mehrere Jahre Entwicklung verschlungen haben: Natürlich spiele ich hier nochmal auf GTA Berlin und GTA United an.

An dieser Stelle möchten wir uns noch einmal für die vielen Modifikationen bedanken, denn ohne diese wäre GTA längst nicht mehr so interessant!

Auf dass uns auch das kommende Jahr wieder viel Neues rund um GTA bietet ... Wir wünschen euch einen guten Rutsch ins neue Jahr!
Fill out this formular in order to register on GTAinside. After registration you will get access to additional functions like posting comments and your own favorite mods list! The membership is completely free.
Please fill out the whole formular and don't forget to enter a valid email address to be able to verify your account.