News
More



Seit dem dritten Trailer zu GTA4 kennen wir viele neue Charaktere, die im Game eine Rolle spielen werden. Aber wer sind diese Leute? IGN.com hat dazu nun einige neue Screens und die dazugehörigen Informationen preisgegeben:
Roman Bellic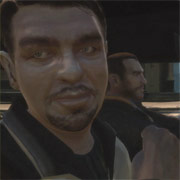 Roman ist Nikos Cousin. Er wollte in Liberty City den amerikanischen Traum leben - schnelle Autos, Frauen und einige Luxuxapartments. Genau davon hat er Niko erzählt und dieser glaubte ihm. Stattdessen hat er nur ein kleines Taxiunternehmen, aber er ist sehr optimistisch. Roman hat übrigens eine Freundin namens Mallorie.
Vlad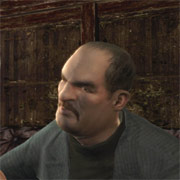 Vlad denkt, dass er ein "Super Gangsta" wäre. In Wirklichkeit ist er nur ein kleiner Fisch mit einer großen Klappe, der mit Verbrechen in Broker versucht auf sich aufmerksam zu machen.
Elizabeta
Schon seit über 10 Jahren ist Elizabeta Dealerin in Bohan. Sie ist sehr erfolgreich, denn sie lässt die Sachen locker angehen. Sie zahlt zum richtigen Zeitpunkt und nietet auch die richtigen Leute um. Elizabeta hat früher ihre eigenen Drogen genommen und war ein wenig paranoid.
Manny
Manny ist ein harter Kerl und gehört zu denen, die Graffiti, den Hip Hop und Breakdancing erfunden haben. Er hat noch nie einen Kredit aufgenommen, da er zu stolz dafür ist. Ihm geht es eigentlich nur um eine Sache: Die Viertel und die Straßen zu säubern.
Brucie
Alle Männer, die eine Krise haben sollten mal Brucie treffen. Brucie ist ein Fitness Enthusiast und selbst ernannter VIP. Er ist laut, er ist stolz und er will, dass auch jeder weiß, wieviel Geld er hat. Er lebt ein großes Leben, genau wie die Männer aus den Magazinen.
Was haltet ihr von ihnen, wie gefallen sie euch? Teilt es uns über die Kommentar-Funktion mit!
Fill out this formular in order to register on GTAinside. After registration you will get access to additional functions like posting comments and your own favorite mods list! The membership is completely free.
Please fill out the whole formular and don't forget to enter a valid email address to be able to verify your account.