News
More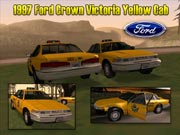 Das Jahr ist nun fast zu Ende und die letzten Vorbereitungen für die morgigen Feste sollten nun fast erledigt sein. Und damit das Jahr 2006 in guter Erinnerung bei uns bleiben wird, haben wir noch einmal ein richtig fettes Update für euch zusammengestellt:

CARS:
- 1997 Ford Crown Victoria Taxi (GTA:SA)
- 1975 Anadol SL (GTA:SA)
- BMW 325i (GTA:SA)

BIKES:
- Nox Startrack DH 9.5 v2 (GTA:SA)
- Kaneda's Bike (GTA:SA)

MODS:
- Plaz-Ex Salon V.2 (GTA:SA)
- Le Parkour Beta (GTA:VC)

WAFFEN:
- Explosive Coca Cola Dose (GTA:SA)
- Paintball Gun (GTA:SA)

MAPS:
- New Vice Port Version 0.9 (GTA:VC)
- SF Innenstadt (GTA:SA)
- Drag Ride v0.1beta (GTA:SA)

SKINS:
- Sir Benni Miles Suit (GTA:SA)
- Shady Ltd Basic Baggy Jeans (GTA:SA)
- 2-Pac Dog Tag (GTA:SA)
- Louis Vuitton Jacke (GTA:SA)
- N.W.A Tattoo (GTA:SA)
- Björn Borg Tattoo (GTA:SA)
- Audi Cap (GTA:SA)
- Audi T-Shirts (GTA:SA)

Im Namen des GTAinside -Teams wünsche ich euch einen guten Rutsch ins neue Jahr.
Fill out this formular in order to register on GTAinside. After registration you will get access to additional functions like posting comments and your own favorite mods list! The membership is completely free.
Please fill out the whole formular and don't forget to enter a valid email address to be able to verify your account.