News
More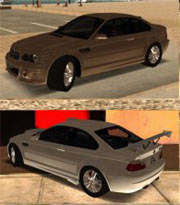 Die Woche ist bereits fast halb rum und es wird daher Zeit für Downloads. Folgende habe ich für euch freigeschaltet bzw. hochgeladen:

CARS:
- Nissan Skyline R-32 (GTA:SA)
- Renault Kangoo 4x4 (GTA:SA)
- Land Rover Discovery 2 (GTA:SA)
- VW Bora (GTA:SA)
- BMW M3 e46 (GTA:SA)
- Oldstar S442 (GTA:SA)

MAPS:
- Gangstars Paradise (GTA:SA)

WALLPAPERS:
- SA Wallpaper (GTA:SA)

MODS:
- Gun Shop (GTA:SA)
- Straßen-MOD (GTA:SA)
- PC -Games Shop (GTA:SA)

SKINS
- Candy Suxx player model (GTA:SA)
- Barcelona Skin (GTA:SA)

Viel Spaß ...
Fill out this formular in order to register on GTAinside. After registration you will get access to additional functions like posting comments and your own favorite mods list! The membership is completely free.
Please fill out the whole formular and don't forget to enter a valid email address to be able to verify your account.