News
More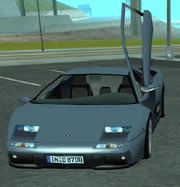 Passend zum Anfang der Woche habe ich euch mal wieder ein fettes Update zusammengepackt. Los gehts:

CARS:
- Lamborghini Diablo VT 6.0 (GTA:SA)
- Nissan Frontier XL-20XT (GTA:SA)
- Swedish Trailer v1.2 (GTA:SA) (->Trucks)
- Monster Sadler (GTA:SA)
- Dodge Sakura XL-220 (GTA:SA)
- Monster Hustler (GTA:SA)
- Solaris Urbino 12 Citybus (GTA:SA) (->Busse)
- Cool- & Freight-Liner v1.4 (GTA:SA) (->Trucks)

MAPS:
- Zeti Island (GTA:SA)

SKINS:
- NY Cap (GTA:SA)
- PellePelle T-Shirt weiß (GTA:SA)
- Nike Air Force 1 rot (GTA:SA)
- NBA T-Shirt (GTA:SA)

MODS:
- No Intro Mod (GTA:SA)
- Quicksilver Shop (GTA:VC)

Viel Spaß mit den Dateien ...
Fill out this formular in order to register on GTAinside. After registration you will get access to additional functions like posting comments and your own favorite mods list! The membership is completely free.
Please fill out the whole formular and don't forget to enter a valid email address to be able to verify your account.