News
More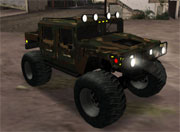 Zu Beginn der Woche habe ich nun einige neue Downloads freigeschaltet. Unter anderem befindet sich ein sehr hübscher Hummer H1 Monstertruck darunter, den ihr euch auf jeden Fall anschauen solltet:

CARS:
- Volvo 240 Turbo (GTA:SA)
- Hummer H1 Monstertruck (GTA:SA)
- Shopping Cart v2 (GTA:SA)

SKINS:
- La Cap (GTA:SA)
- Cowboy Klamotten (GTA:SA)

WALLPAPERS:
- GTA Gold Wallpaper (GTA:SA)

OTHER:
- GTA Gold Stundenplan (GTA:SA)

MAPS:
- Dan Island (GTA:SA)

Viel Spaß mit dem Update.
Fill out this formular in order to register on GTAinside. After registration you will get access to additional functions like posting comments and your own favorite mods list! The membership is completely free.
Please fill out the whole formular and don't forget to enter a valid email address to be able to verify your account.