News
More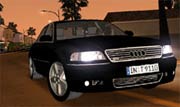 Auch heute geht der Download-Marathon weiter und es erwarten euch mal wieder einige spannende neue Downloads:

CARS:
- Lamborghini Gallardo Police Car SF (GTA:SA) (-> Polizei)
- Mazda RX-8 (GTA:SA)
- 2002 Audi A8L 6.0 W12 (GTA:SA)

SKINS:
- SnowClothes BETA v 1.0 (GTA:SA)
- Gangsta Clothes (GTA:SA)
- Goat Tattoo (GTA:SA)
- 99Bullets Collection (GTA:SA)
- G-unit Shirt (GTA:SA)
- NBA Logo Jeans (GTA:SA)

BIKES:
- CUSTOM BIKES (GTA:SA)

SONSTIGES:
- Stundenplan Pack (GTA:SA)

Viel Spaß ...
Fill out this formular in order to register on GTAinside. After registration you will get access to additional functions like posting comments and your own favorite mods list! The membership is completely free.
Please fill out the whole formular and don't forget to enter a valid email address to be able to verify your account.