News
More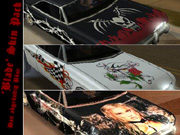 Trotz erneuter Probleme mit unserem Server und dem damit verbundenen Ausfall des Forums lassen wir uns nicht entmutigen und versorgen euch wie gewohnt mit den besten Dateien rund um GTA. Das heutige Update ist auch etwas Besonderes, denn es enthält das erste Fahrzeug, das erfolgreich nach San Andreas importiert wurde. Zwar handelt es sich "nur" um den Stinger aus GTA III, aber wenn weiter an den entsprechenden Tools gearbeitet wird, dann erwarten uns sicher schon bald zahlreiche neue Fahrzeuge in San Andreas.

Zwei Tools, die uns neue Fahrzeuge etwas näher bringen, haben wir heute auch im Angebot. Zunächst sei der DFF-Im-/Exporter für 3D Studio Max genannt, der auch das Importieren des Stingers ermöglichte. Zwar handelt es sich noch um eine sehr frühe Beta-Version, aber das Exportieren aller Fahrzeuge ist bereits problemlos möglich. Nur der Import bereitet noch große Probleme. Desweiteren hat Majestic einen reinen Exporter für das 3D-Programm "Lightwave" entwickelt. Dieser ermöglicht euch das Exportieren der Fahrzeuge von San Andreas in das 3D-Programm. Das Importieren von Fahrzeugen ist bisher jedoch nicht möglich. Nach dieser langen Einleitung folgt nun aber doch noch die obligatorische Übersicht:

CARS:
- Blade Lackierungen (GTA:SA)
- Zagor Monstera Car (GTA:SA)
- Dutch Elegy (GTA:SA)
- Stinger aus GTA III (GTA:SA)
- 2F2F Elegy (GTA:SA)
- Black-Red-Jester (GTA:SA)

MODS:
- Saint Mark's Bistro Mission MOD V1.1 (GTA:SA)
- Autohaus (GTA:SA)

SKINS:
- Joe Petts Collection (GTA:SA)

TOOLS:
- LightWave DFF Exporter (GTA:SA)
- DFF-Exporter (3D Studio Max) (GTA:SA)

WAFFEN:
- Chrome Minigun (GTA:SA)

Da das Forum derzeit ja leider nicht verfügbar ist, solltet ihr Fragen zu den Files (bitte erst nachdem ihr die ReadMe gründlich gelesen habt) in den Kommentaren unter dieser News stellen. Hier werden sie schneller wahrgenommen als bei den DL-Kommentaren und so bekommt ihr auch schneller Hilfe!
Fill out this formular in order to register on GTAinside. After registration you will get access to additional functions like posting comments and your own favorite mods list! The membership is completely free.
Please fill out the whole formular and don't forget to enter a valid email address to be able to verify your account.