News
More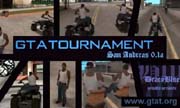 Erst kürzlich berichteten wir euch über ein Video zur kommenden Multiplayer-Mod GTA Tournament. Heute haben wir bereits eine ganz besondere Überraschung für euch, denn die Multiplayer-Mod erschien heute in einer ersten spielbaren Version! Diese Version nennt sich gtaT San Andreas 0.1a und beinhaltet bereits den Kern des Multiplayers. Viele Features fehlen natürlich noch, aber großen Spaß wird man sicherlich trotzdem schon haben.

Die knapp 2 MB große Datei - die die Installationsdatei sowohl für Spieler als auch für Hoster eines Servers enthält - könnt ihr bequem bei uns runterladen. Dort findet ihr auch weitere Informationen zu den bisherigen Features. Viel Spaß!
Fill out this formular in order to register on GTAinside. After registration you will get access to additional functions like posting comments and your own favorite mods list! The membership is completely free.
Please fill out the whole formular and don't forget to enter a valid email address to be able to verify your account.