News
More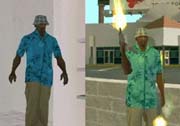 Auch heute haben wir wieder eine ganze Ladung neuer Files für euch. Unsere User haben uns fleißig ihre Werke zugeschickt, sodass dieser Montag ganz gewiss nicht langweilig wird! Hier die Übersicht:

MODS:
- Ultimate Nitro Mod (GTA:SA)
- Ultimate Water Textures (GTA:SA)

TOOLS:
- IMG Tool v2.0 (GTA:SA)

SKINS:
- White Didier Sachs Suit (GTA:SA)
- G-Style by Storm (GTA:SA)
- Eastern Bikes T-Shirt (GTA:SA)
- Skin for CJ "Vercetti Style" (GTA:SA)
- Böhse Onkelz (GTA:SA)
- Rap Tatoos (GTA:SA)
- Biker Lederjacke Colour (GTA:SA)

HELPWARE:
- All Maps of Items (GTA:SA)

Ich wünsche euch viel Spaß mit den neuen Dateien. Besonders die zahlreichen Skins sind einen Blick wert!
Fill out this formular in order to register on GTAinside. After registration you will get access to additional functions like posting comments and your own favorite mods list! The membership is completely free.
Please fill out the whole formular and don't forget to enter a valid email address to be able to verify your account.