News
More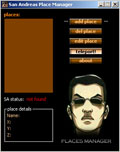 Die PC-Version von GTA San Andreas schlug ein wie eine Bombe und daher gibt es auch heute wieder neue Downloads für euch. Doch auch alle Fans von Vice City können sich freuen, denn auch zwei neue Cars für den Vorgänger sind heute mit dabei.

Doch konzentrieren wir uns auf die neuen Dateien für San Andreas. Zunächst haben wir einen weiteren Trainer im Angebot, der euch 27 Wünsche erfüllen kann. Ob Unsterblichkeit, maximale Fähigkeiten, viel Geld oder kein Wanted Level, mit diesem Trainer kann euch nichts passieren.

Außerdem haben wir die ersten "Wheels" für San Andreas für euch im Angebot. Euch gefallen die Felgen in San Andreas nicht? Kein Problem, dann wechselt sie aus! Somit wären wir thematisch auch gleich beim Tuning. Während man eigentlich nur ausgewählte Fahrzeuge in der Transfender-Werkstatt tunen kann, ermöglich die "Transfender Mod" das Tunen von fast allen Fahrzeugen. Selbst Motorrädern könnt ihr NOS verpassen!

Zum Schluss haben wir noch ein Tool für die Faultiere unter euch. Ist euch der Weg von Punkt A zu Punkt B in San Andreas zu weit? Kein Problem, dank des "Places Manager" könnt ihr euch einfach teleportieren lassen. Folgend die Übersicht über alle neuen Files:

CARS:
- Ferrari TestaRossa "Igonore Pain Tuning" (GTA3)
- Infernus Concept (GTA3)

MODS:
- Transfender Mod (GTA:SA)
- Neue Wheels (GTA:SA)

TOOLS:
- Places Manager (GTA:SA)

TRAINERS:
- GTA:San Andreas +27 Trainer (GTA:SA)

Für alle Neulinge auf unserer Seite ein kleiner Hinweis: Rechts unter "Latest Downloads" findet ihr die Links zu den aktuellen Files. Alle Files könnt ihr geordnet in den jeweiligen Kategorien einsehen. Viel Spaß!
Fill out this formular in order to register on GTAinside. After registration you will get access to additional functions like posting comments and your own favorite mods list! The membership is completely free.
Please fill out the whole formular and don't forget to enter a valid email address to be able to verify your account.