News
More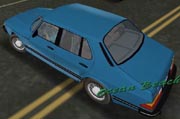 Während auf der Electronic Entertainment Expo (E3) in Los Angeles bereits neue Spiele vorgestellt werden und wir bald sicher auch den ersten Trailer zur PC-Version von GTA San Andreas zu sehen bekommen, gibt es bei uns zunächst mal wieder ein großes Download-Update. Folgende Files finden sich nun in unserem DL-Archiv:

CARS:
- Saab 900i 16 (1986) (GTA3)
- Getunter Mafia aus GTA3 (GTA3)

WAFFEN:
- Broken Baseball Schläger (GTA:VC)

SKINS:
- Latvian_Police_Officer (GTA3)

WALLPAPERS:
- San Wallpaper by Torbi (GTA:SA)
- Wallpaper (Artworks) (GTA:SA)

Viel Spaß mit den neuen Dateien :-)

P.S. Auf einigen Seiten ist zu lesen, dass der nächste Teil der GTA-Reihe als exklusiver Launchtitel für die PlayStation3 Anfang 2006 erscheinen soll. Bei diesen Aussagen handelt es sich lediglich um Gerüchte, die sich als falsch herausgestellt haben. Bisher gibt es keinerlei Informationen zum Nachfolger von GTA San Andreas.
Fill out this formular in order to register on GTAinside. After registration you will get access to additional functions like posting comments and your own favorite mods list! The membership is completely free.
Please fill out the whole formular and don't forget to enter a valid email address to be able to verify your account.