News
More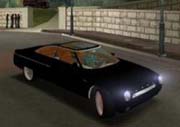 Der Release von GTA San Andreas für den PC rückt sekündlich näher und viele Fans können es kaum noch erwarten, endlich als Carl Johnson in die Welt von San Andreas einzutauchen. Genau einen Monat müssen Europäer jedoch noch auf die PC-Version warten, weshalb wir euch die Wartezeit (wie gewohnt) mit neuen Leckerbissen für GTA III & Vice City versüßen. Hier die Übersicht des heutigen DL-Updates:

CARS:
- Ford Forty-nine 2000 Concept (GTA3)

MODS:
- Mansion Mod by Ringleader (GTA:VC)
- CAR SOUND NR3Racing (GTA:VC)

SKINS:
- Mafiosi Tommy (GTA:VC)

Falls es wider Erwarten Probleme mit der Installition gibt, schildert eure Probleme bitte im Forum. Auch die Foren-Suche ist ratsam, da viele Fehler immer wieder auftauchen. Ich kann nur nochmals darauf hinweisen, dass Support-Anfragen im Gästebuch, per Email oder in den Kommentaren nicht beantwortet werden. Dies stellt keine fehlende Hilfsbereitschaft unsererseits dar, sondern die Bemühung, dass die jeweiligen Funktionen unserer Seite (Forum, Gästebuch, Kommentare) so genutzt werden, wie es erdacht ist.
Fill out this formular in order to register on GTAinside. After registration you will get access to additional functions like posting comments and your own favorite mods list! The membership is completely free.
Please fill out the whole formular and don't forget to enter a valid email address to be able to verify your account.