News
More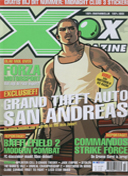 Das weltweit erste Xbox-Preview erscheint diesen Monat im niederländischen "Xbox-Magazine".

Neben dem Gesichtspunkt, dass auch diese Version von San Andreas die PS2 Umsetzung um Längen schlagen wird, werden wahrscheinlich keine großen Neuigkeiten erwähnt, dennoch dürfen wir auf 19 exklusive Xbox-Screenshots gespannt sein. Wir halten euch weiterhin auf dem Laufenden.
Fill out this formular in order to register on GTAinside. After registration you will get access to additional functions like posting comments and your own favorite mods list! The membership is completely free.
Please fill out the whole formular and don't forget to enter a valid email address to be able to verify your account.