News
More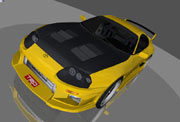 Bevor die neue Woche starten kann, bekommt ihr noch ein Update von mir. Es umfasst unter anderem einen sehr gelungenen "Harvester Mod" und einen echt tollen Toyota Supra. Here we go:

CARS:
- TRD Street Supra V.1 (GTA3)
- 1970 Pontiac Le Mans v1.5 (GTA3)

MODS:
- Harvester -Mod (GTA:VC)
- NIRVANA-Mod (GTA:VC)

TOOLS:
- CamHack V3.0c (GTA:VC)

Viel Spaß und einen guten Start in die neue Woche ...
Fill out this formular in order to register on GTAinside. After registration you will get access to additional functions like posting comments and your own favorite mods list! The membership is completely free.
Please fill out the whole formular and don't forget to enter a valid email address to be able to verify your account.