News
More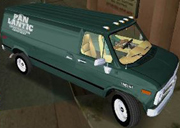 Damit ihr kraftvoll in die neue Woche starten könnt, haben wir kurz vor dem Wochenbeginn ganze acht neue Cars für euch. Hier die Übersicht:

CARS:
- Ford Pinto '73 (GTA3)
- Ford F-150 '78 (GTA3)
- Chevy Van G20 "Enforcer" (GTA3)
- Chevy Van G20 '86 (GTA3)
- Mazda RX7 tuned V1.0 (GTA3)
- Ferrari 360 Modena (GTA3)
- Chevy Box Van '88 (GTA3)

Ich wünsche euch eine gute Fahrt und einen guten Start in die Woche.
Fill out this formular in order to register on GTAinside. After registration you will get access to additional functions like posting comments and your own favorite mods list! The membership is completely free.
Please fill out the whole formular and don't forget to enter a valid email address to be able to verify your account.