News
More



So Leute, es tut mir Leid, dass diese Neuigkeiten erst so spät kommen... das wichtigste zuerst: das am 22. Oktober erscheinende GTA San Andreas ist zu 80 % fertiggestellt und wird, wegen seiner enormen Größe, auf einer Double-Layer-DVD (ca. 8,5 GB Speicherplatz) ausgeliefert.

Bezüglich des Gameplays gibt es auch einige News:


Wenn Carl zu viel isst und dadurch an Körperumfang dazugewinnt werden ihm einige Missionen verweigert.
Das Hud wird ganz im Gta3 und Vice City Stil gehalten sein.
Die Grafik wird deutlich besser sein, das Sich-Aufbauen der Häuser ist um ca 1km in die Ferne gerückt.
Die Weitsicht wird deutlich steigen, da eine neue Technik angewandt wird: Parkende Autos, Baumgruppen und andere Objekte werden in weiter Ferne anfangs nur als grobe Objekte dargestellt, von Nahmen betrachtet werden sie aber wie gewohnt detailreich dargestellt.
Die Bewegungen sollen fließender und weicher sein als in Vice City, Rockstar steuert außerdem eine konstante Framerate von 30fps an, Ruckler ade! Leider traten in der aktuellen Testversion bei Opm2 aber noch immer die gewohnten Ruckler auf.
San Andreas bietet eine automatische Zielerfassung, was die Steuerung deutlich vereinfacht. Natürlich ist es auch noch möglich auf manuelles Zielen wie in Vice City umzuschalten.
Die Kamera zoomt jetzt auf Knopfdruck direkt hinter den Charakter und man peilt mit dem Analogstick seinen Gegner an.
San Andreas soll 3 mal so viel Musik und deutlich mehr Waffen als Vice City bieten, das gesamte Game soll außerdem 3 mal so lange dauern wie Vice City.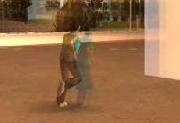 Dann sind da noch ein paar neue Downloads, zum Beispiel 2 coole Skins und ein Mod, der das Unschärfe-FX in GTA Vice City aktivieren lässt (siehe Bild). Und jetzt wünsche ich allen GTA-Zockern noch viel Spaß damit !
Fill out this formular in order to register on GTAinside. After registration you will get access to additional functions like posting comments and your own favorite mods list! The membership is completely free.
Please fill out the whole formular and don't forget to enter a valid email address to be able to verify your account.