News
More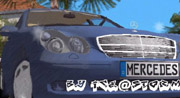 An so einem schönen sonnigen Tag darf es natürlich auch nicht an Downloads fehlen. Hier die Übersicht:

CARS:
- BSinjection Banshee (GTA3)
- Mercedes-Benz C200 Elegance Luxus (GTA3)
- Honda NSX (GTA3)

TOOLS:
- MEGA TOOL PACK von Patti (GTA:VC)

Besonders der NSX und der Mercedes-Benz C200 sind echte Highlights! Ich wünsche euch noch einen schönen Samstag ...
Fill out this formular in order to register on GTAinside. After registration you will get access to additional functions like posting comments and your own favorite mods list! The membership is completely free.
Please fill out the whole formular and don't forget to enter a valid email address to be able to verify your account.