News
More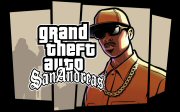 Kaum haben wir gestern die ersten Screenshots zu GTA:SanAdreas veröffentlicht, wurden heute schon erste Infos zur Story bekannt.
Hier eine recht gelungene Übersetzung von unseren Freunden von Gamona.de:

Wir sind Carl Johnson und leben in den 90ern. Wir wollten etwas Besseres, und so entflohen wir dem Leben in Los Santos, einer von Korruption und Straßengangs gebeutelten Stadt im Staate San Andreas.

Nun, diese Stadt hat uns die Mutter genommen. Sie wurde ermordet. Unsere Familie zerstreut sich und mit guten alten Freunden geht es rapide bergab.

Zeit zurückzukehren, in den Moloch. Unser Standpunkt dazu will mit Nachdruck vermittelt werden. Während wir uns anschicken, im Saustall aufzuräumen, hängen uns korrupte Polizisten einen Mord an. Gut, dann die besonders harte Tour.

Wir werden Familie und Freunde schützen wie ein sehr unklug provoziertes Alpha-Tier einer brutalen und nachtragenden Spezies.

Wenn wir dabei den ganzen Staat auseinandernehmen müssen...dann...ist das so.

Zu den Screenshots geht es übrigens hier!
Fill out this formular in order to register on GTAinside. After registration you will get access to additional functions like posting comments and your own favorite mods list! The membership is completely free.
Please fill out the whole formular and don't forget to enter a valid email address to be able to verify your account.