News
More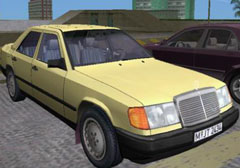 Für viele von euch haben sicher gestern die Ferien begonnen. Und was ist da besser als frische Downloads für Vice City und GTA3? Vermutlich Vieles, aber hier trotzdem frische Files für euch!

CARS:
- Mercedes-Benz 200D (GTA3)

SKINS:
- Tom Bobe (GTA3)
- Prisoner (GTA:VC)
- 2Gangster (GTA:VC)

MODS:
- Sarah Connor Background 3 (GTA:VC)
- HKS Tuning Shop (GTA:VC)

Die DL-Links findet ihr in den jeweiligen Kategorien.
Fill out this formular in order to register on GTAinside. After registration you will get access to additional functions like posting comments and your own favorite mods list! The membership is completely free.
Please fill out the whole formular and don't forget to enter a valid email address to be able to verify your account.