News
Back


---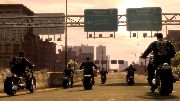 Dan Houser, vice president of creative development for Rockstar Games, revealed some new information about episode 1: "The Lost and Damned" will be available exclusiv for Xbox360 on February 17th.

The main character of the first episode is Johnny Klebitz, who is already known because there were some missions with Elizabeta and Ray.
Dan Houser said:
"Johnny is a very different character than Niko, with a very different background. I can't go into too much detail on the story, because we try not to give away too much plot before the game is released. But I can say that the story will show you a different side of Liberty City."
Furthermore, Niko is expected to appear in some situations and some of GTA IV's secrets will also be revealed.
Recent News
More