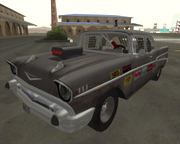 Nach unserer Erneuerung in Form der Video -Datenbank wird es auch mal wieder Zeit für einige neue Downloads. Auch wenn die Auswahl dieses Mal überschaulich wirkt, sind einige erstaunlich gute Addon -Cars dabei:

CARS:
- Seat Cupra GT (GTA:SA)
- Baggage Airport Service Vehicle (GTA:SA)
- Maserati Quattroporte (GTA:SA)
- Scania 580 (TORPEDO) (GTA:SA)
- Western Star 6900 XD + Big Trailer (GTA:SA)
- 1957 Chevrolet BelAir Bloodring Banger (GTA:SA)
- 2007 Chevrolet Camaro Concept (GTA:SA)
- 1996 Cadillac Eldorado (GTA:SA)
- Renault Premium Strada + Trailer (GTA:SA)

SKINS:
- Aka Blue Hiphop Jeans (GTA:SA)
- The Black Chameleon (GTA:SA)
- The Game (GTA:SA)
- Jay-Z Silver Necklace (GTA:SA)
- AKA Black Hood Jacke (GTA:SA)
- Pitbull T-Shirt (GTA:SA)

MODS:
- Windows Vista Logo -Graffiti (GTA:SA)
- New Garage in San Fierro (GTA:SA)

SAVEGAMES:
- Last Mission SaveGame (GTA:SA)

MAPS:
- Nice Tunnel V1.0 (GTA:SA)
- Drift Bay Xtreme (GTA:SA)
- Mount Chil (GTA:SA)
Falls es bei der Installation der Files zu Problemen oder Fehlern kommen sollte, könnt ihr wie gewohnt im Forum Hilfe erfragen oder mit der Board-Suche nach eurem Problem suchen.


Des Weiteren möchte ich alle nochmal an dieser Stelle darauf hinweisen ausschließlich unsere GTAinside.com oder GTAinside.de -Domain zu benutzen. Subdomains von gamigo.de werden bald abgeschaltet!