News
More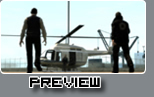 Das Magazin Computer Bild Spiele veröffentlichte heute ein weiteres Preview zu Grand Theft Auto 4.
Viel Spaß beim lesen!
- Die Kugeln der Gegner hinterlassen sichtbare Einschläge.
- Bei der Verfolgungsjagd durch einen Kanal kann man die wunderschönen Wassereffekte bestaunen.
- Niko muss ab jetzt immer einen Helm tragen wenn er Motorrad fährt, aber es ist nicht bekannt ob er automatisch kommt oder ob Niko ihn anziehen muss.
- Niko wurde in seiner Heimatstadt immer ausgenutzt.
- Man kann eine Straftat der Polizei melden.
- Der erste Auftragsgeber ist Brucie.
- Passanten lassen ihre Einkauftüten fallen, wenn sie Angst bekommen.
- Niko kann zur Seite springen, wenn ein Auto ihn überfahren will.
- Wenn Niko von der Polizei verfolgt wird und dann schwer verletzt ist landet er im Krankenhaus und verliert seine Waffen.
- Man wird in einer Mission von einem schwarzen Auto verfolgt, indem 2 Mafiosi sitzen.
- Es ist schwer im dichten Verkehr schnell zu fahren.
- Liberty City wurde bis ins kleinste Detail New York nachempfunden.
- Der Rauch und das Feuer sehen unglaublich aus.
- Bereits am Anfang spürt man das GTA-Feeling.
- Mit einem Tastendruck steigt man in ein Auto, mit dem zweiten startet man den Motor.
- Es ist sehr wichtig seine Freundschaften in der Stadt zu Pflegen.
- Niko kann anderen aus dem auto schubsen.
- GTA IV spielt im Jahre 2008.
---
Ein Interview mit Jeronima Barrera, dem leitenden Entwickler bei Rockstar Games, wurde ebenfalls geführt:
CBS: Wie oft haben sich die Spiele der GTA-Serie bisher insgesamt verkauft?
Barrera: 65 Millionen Mal und ein Ende ist nicht in Sicht (lacht).

CBS: Die neue Spielumgebung in GTA 4 wirkt deutlich düsterer als bisher. Wird sich das auch im Spielablauf widerspiegeln?
Barrera: Wir wollten von Anfang an eine völlig neue GTA-Erfahrung erschaffen. Jeder Aspekt des Spiels wurde auf daraufhin untersucht. Es sollte eine düstere, viel realistischere Welt werden, als wir sie jemals zuvor geschaffen hatten.

CBS: "Rockstar präsentiert Tischtennis" war das erste Spiel mit der RAGE-Engine. Welche Erkenntnisse konnten für die Entwicklung von GTA 4 gewonnen werden?
Barrera: Wir haben sehr viel aus der Entwicklung von Tischtennis gelernt. Besonders die Handhabung der unglaublich vielen Animationen hat davon profitiert. Da wir diese Engine selber entwickelt haben, konnten wir jeden Aspekt unseren Wünschen anpassen.

CBS: Wieso haben Sie sich als Hauptcharakter einen osteuropäischen Einwanderer ausgesucht?
Barrera: Es geht uns immer darum, einen Charakter zu schaffen, dem man sich verbunden fühlt. In GTA 4 wollen wir die Geschichte eines Immigranten erzählen, der sein Glück im Nordosten der USA im Jahr 2008 sucht.

CBS: Vielen Dank für das Gespräch und für ihre Zeit.
Fill out this formular in order to register on GTAinside. After registration you will get access to additional functions like posting comments and your own favorite mods list! The membership is completely free.
Please fill out the whole formular and don't forget to enter a valid email address to be able to verify your account.