News
More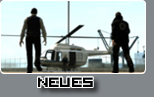 Das britische Magazin PLAY veröffentlichte nun ebenfalls ein Preview, indem es hauptsächlich um Nico geht. Zwar nicht viel, aber immerhin etwas:
- Niko lebt in Broker.
- Die Polizei breitet sich auf die gesamte Stadt aus.
- Es wird ein "Vercetti" erwähnt.
- Niko ist "Militärgeprüft".
- Er kennt sich in modernen Gefechten aus.
- Weiß wie man der Polizei entkommt.
- Roman bestitzt eine Taxi Firma.
- Die Polizei kennt Niko bereits von Verfolgungen.
---
Cynamite.de präsentierte uns heute ebenfalls etwas neues, zwar keine Informationen, dafür aber 3 neue Screenshots. Leider liegen uns diese noch nicht im Großformat vor. Schaut einfach mal in unserer Gallerie vorbei.
Fill out this formular in order to register on GTAinside. After registration you will get access to additional functions like posting comments and your own favorite mods list! The membership is completely free.
Please fill out the whole formular and don't forget to enter a valid email address to be able to verify your account.