News
More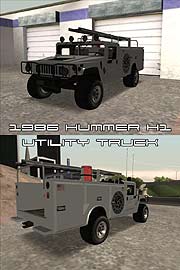 Unser Upload-Ordner wurde soeben mal wieder von mir entrümpelt, und dabei habe ich einige gut gelungene Downloads freigeschaltet:

CARS:
- Opel Rekord C (GTA:SA)
- Citroen XM (GTA:SA)
- 2003 Ferrari Enzo 1.2 (GTA:SA)
- Peugeot 309 GR (GTA:SA)
- Hummer H1 Utility Truck (GTA:SA)

MODS:
- GTA Tournament 0.3c (GTA:SA)

SKINS:
- 3p-Skin (GTA:SA)

WEAPONS:
- Chrome Katana (GTA:SA)

Denkt bitte daran, dass ihr bei euren Uploads immer möglichst informative und gut überlegte Screenshots dazupackt, auf denen man auch viel erkennen kann.
Fill out this formular in order to register on GTAinside. After registration you will get access to additional functions like posting comments and your own favorite mods list! The membership is completely free.
Please fill out the whole formular and don't forget to enter a valid email address to be able to verify your account.