News
More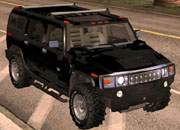 Die Geschenke sind gekauft, die Adventskalender bis aufs letzte Kläppchen ausgeräumt und überall riecht es nach Weihnachtsplätzchen. Überall? Nein, Deutschlands größte GTA-Seite leistet erfolgreich Widerstand. Hier dominieren auch zum Weihnachtsfest Motorengeräusche und Benzingeruch! Zum Fest haben wir ein großes Paket an neuen Files für euch vorbereitet:

CARS:
- Ford Mustang GT 2005 (GTA:SA)
- 2004 Fiat Panda v.2 (GTA:SA)
- Hummer H2 Updated (GTA:SA)
- VW Jetta II GL 1.8I (GTA:SA)
- Custom Hotknife (GTA:SA)
- BMW Z4 Tuning II (GTA:VC)
- BMW Z4 Tuning I (GTA:VC)
- BMW Z4 (GTA:VC)

MAPS:
- San Island v1 (GTA:SA)
- Bridge V1 (GTA:SA)

SKINS:
- Nike T-Shirt (GTA:SA)
- Duff T-Shirt (GTA:SA)

Im Namen des gesamten Teams von GTAinside wünschen wir euch ein schönes und besinnliches Weihnachtsfest 2005! Zwar hoffe ich natürlich, dass euch die neuen Files gefallen, den Abend verbringt ihr aber hoffentlich trotzdem im Kreise eurer Familie am Weihnachtsbaum.
Fill out this formular in order to register on GTAinside. After registration you will get access to additional functions like posting comments and your own favorite mods list! The membership is completely free.
Please fill out the whole formular and don't forget to enter a valid email address to be able to verify your account.