News
More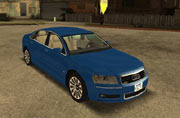 Das neuste Update umfasst mal wieder einige nette Files für euch. Besonders erwähnenswert ist der Audi A8, den ihr hier rechts sehen könnt.

Hier die gesamte Übersicht:

CARS:
- 2003 Audi A8 (GTA:SA)
- Power Checker Hot Rod (GTA:SA)

MAPS:
- Verona beach Island V.1 beta (GTA:SA)

COMICS:
- Jester Blunt / Kampf Gegen Dr. Maybe (GTA:SA)

SKINS:
- Optik Army Dogtag (GTA:SA)
- Slipknot T-Shirt (GTA:SA)

Viel Spaß ...
Fill out this formular in order to register on GTAinside. After registration you will get access to additional functions like posting comments and your own favorite mods list! The membership is completely free.
Please fill out the whole formular and don't forget to enter a valid email address to be able to verify your account.