News
More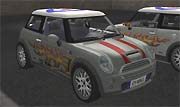 Da wir uns keine langen Pausen gönnen um euch mit neuen Downloads zu versorgen, gehts hier auch direkt los mit folgenden Dateien:

SKINS:
- Tupac, G-Unit, Denim Skinpack (GTA:SA)

MODS:
- Kaisers Markt (GTA:SA)

CARS:
- Skoda Octavia öster. Polizei (GTA:SA)
- Skoda Octavia Italien Carabinieri (GTA:SA)
- Cadillac Sixteen (GTA:SA)
- Ferrari 456 Venice Estate (GTA:SA)
- Mini GB Vinyl Tuning (GTA:SA)
- NFS MW Monster Skin (GTA:SA) (-> Texturen)
- G Unit Car Textur (GTA:SA) (-> Texturen)

Viel Spaß ...
Fill out this formular in order to register on GTAinside. After registration you will get access to additional functions like posting comments and your own favorite mods list! The membership is completely free.
Please fill out the whole formular and don't forget to enter a valid email address to be able to verify your account.