News
More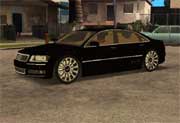 Das Wochenende ist leider schon wieder längst vorbei, und die Arbeit beginnt. Zur Aufmunterung bekommt ihr aber von uns eine Reihe von neuen Downloads:

CARS:
- Audi A8 (GTA:SA)
- Suzuki Escudo Pikes Peak (GTA:SA)
- Mini One GB-Version (GTA:SA)

SKINS:
- Boston Celtics T-Shirt (GTA:SA)
- Miami Heats Trikot (GTA:SA)
- Lakers T-Shirt (GTA:SA)
- Gunit T-Shirt (GTA:SA)

MODS:
- Satelit map mod (GTA:SA)

Bei Fragen und Problem könnt ihr euch natürlich wie immer im Forum zu Wort melden. Ansonsten wünsche ich nun noch viel Spaß ...
Fill out this formular in order to register on GTAinside. After registration you will get access to additional functions like posting comments and your own favorite mods list! The membership is completely free.
Please fill out the whole formular and don't forget to enter a valid email address to be able to verify your account.