News
More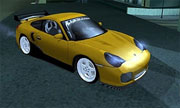 Auch wenn man am Sonntag Arbeit vermeiden sollte, hält uns das nicht davon ab euch ein neues Update zu präsentieren:

CARS:
- Porsche 911 Hamann (GTA:SA)
- AUDI S2 (GTA:SA)
- Mercedes-Benz S600 W140 Pullmann (GTA:SA)
- Mitsubishi Galant (GTA:SA)
- Lada Samara Tuned VAZ-2108 (GTA:SA)
- Dodge Challenger '70 TA (GTA:SA)

SKINS:
- Tommy Vercetti (GTA:SA)

MODS:
- 50 Cent Graffiti (GTA:SA)

Viel Spaß und einen schönen Sonntag wünsche ich euch noch ...
Fill out this formular in order to register on GTAinside. After registration you will get access to additional functions like posting comments and your own favorite mods list! The membership is completely free.
Please fill out the whole formular and don't forget to enter a valid email address to be able to verify your account.