News
More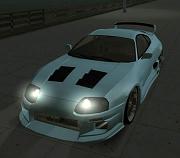 Da wir euch natürlich nicht verhungern lassen wollen, gibt es nun erstmal ein kleines Update von mir mit den folgenden Files:

CARS:
- Toyota Supra TRD Final (GTA:SA)
- Ford Mustang (GTA:SA)
- BMW Williams F1 (GTA:SA)

MODS:
- AMG Autohaus (GTA:SA)

BIKES:
- Harley-Davidson Sholvehead Chopper (GTA:SA)

SKINS:
- Samy Deluxe T-Shirt (GTA:SA)
- 50Cent Shirt (GTA:SA)

Viel Spaß ...
Fill out this formular in order to register on GTAinside. After registration you will get access to additional functions like posting comments and your own favorite mods list! The membership is completely free.
Please fill out the whole formular and don't forget to enter a valid email address to be able to verify your account.