News
More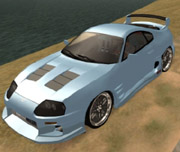 Zwar kommt das heutige Update erst relativ spät, dafür haben wir aber zahlreiche tolle Files für euch hochgeladen. So könnt ihr zum Beispiel als Spiderman oder Jason Voorhees durch San Andreas ziehen, oder auch neue fahrbare Untersätze von Aston Martin, Fiat, Toyota und Dodge einbauen. Folgend die komplette Übersicht:

CARS:
- TRD Supra *Final* (GTA:SA)
- Dodge Viper RT/10 Roadster (GTA:SA)
- Aston Martin DB5 (GTA:SA)

BIKES:
- Honda CBR600RR (GTA:SA)
- Freeway Chopper 2.2 (GTA:SA)

MODS:
- TAB MOD v2 (GTA:SA)
- In Game Euro Mod (GTA:SA)

SKINS:
- Jacob Watch Mod (GTA:SA)
- Amazing Spiderman Mod 1.0 (GTA:SA)
- Jason Voorhees Skin (GTA:SA)
- Adidas Shirts (GTA:SA)
- Schalke Trikot (GTA:SA)

TRAINERS:
- GTA: San Andreas +113 Trainer v1.4 (GTA:SA)

VIDEOS:
- My Stunts (GTA:SA)
- Drive like a DEVIL feel like a GOD (GTA:SA)
- Crazy Stunts (GTA:SA)

WAFFEN:
- Garden Trimmer (GTA:SA)

Da unser Forum aufgrund technischer Probleme (mal wieder) nicht erreichbar ist, könnt ihr Fragen oder Probleme zu den Downloads nur in den Kommentaren posten. Wir werden uns bemühen, euch auch dort tatkräftig zu helfen. Viel Spaß mit den neuen Dateien!
Fill out this formular in order to register on GTAinside. After registration you will get access to additional functions like posting comments and your own favorite mods list! The membership is completely free.
Please fill out the whole formular and don't forget to enter a valid email address to be able to verify your account.