News
More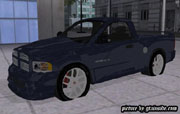 Leider scheint es derzeit zur Gewohnheit zu werden, dass Teile unserer Seite temporär nicht verfügbar sind. Heute hat es mal wieder das Forum erwischt, welches gerade leider nicht erreichbar ist. Wir entschuldigen uns für den Ausfall und hoffen auf eine schnelle Rückkehr unserer Diskussionsplattform. Aber damit euch auch ohne Forum nicht langweilig wird, haben wir wie immer einige neue Downloads für euch:

CARS:
- Dodge Ram V. 0.1 (GTA:SA)
- 1999 Lizard Bonfire v1.2 (GTA3)

MODS:
- FBI - Mod (GTA:SA)
- NewSkateboard-Mod (GTA:SA)

SKINS:
- Hamburgs Finest #2 (GTA:SA)
- Cool Car Shirt (GTA:SA)
- Suptras Tattoo Update (GTA:SA)

VIDEOS:
- Thrillseeker - pr0Air's 3rd Stunt video (GTA:SA)

Fragen zu den Dateien könnt ihr während der Downtime des Forums in den Kommentaren stellen. Viel Spaß!
Fill out this formular in order to register on GTAinside. After registration you will get access to additional functions like posting comments and your own favorite mods list! The membership is completely free.
Please fill out the whole formular and don't forget to enter a valid email address to be able to verify your account.