News
More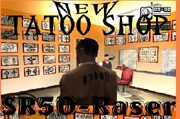 Trotz anhaltender Serverprobleme - die wohl leider nicht vor nächster Woche behoben werden können (ihr müsst also noch etwas auf das Forum verzichten) - haben wir auch heute ein kleines Update für euch. Es umfasst sechs Files:

MODS:
- Avia station mod (GTA:SA)
- BP Tankstelle (GTA:SA)
- NEW TATOO SHOP (GTA:SA)

SKINS:
- SubUrban real shirts (GTA:SA)
- Blind Guardian Skin for CJ (GTA:SA)
- Spiderman T-Shirt (GTA:SA)

Viel Spaß mit den neuen Files, Fragen & Probleme bitte in die News-Kommentare.
Fill out this formular in order to register on GTAinside. After registration you will get access to additional functions like posting comments and your own favorite mods list! The membership is completely free.
Please fill out the whole formular and don't forget to enter a valid email address to be able to verify your account.