News
More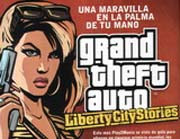 Nach und nach erreichen uns Informationen zum nächsten Teil der GTA-Reihe, der exklusiv für Sonys PlayStation Portable erscheinen wird. Das spanische Magazin Play2Mania veröffentlichte nun ein 4-seitiges Preview zu GTA Liberty City Stories. Während viele Details schon bekannt sind, enthält das Preview auch einige neue Fakten:
- GTA: LCS wird GTA III in vielen Aspekten übertreffen, so besitzt der PSP-Titel weniger Pop-ups, eine bessere Bildqualität und mehr Autos & Menschen gleichzeitig auf der Bildfläche
- bis auf den identischen Schauplatz (Liberty City) ist GTA: LCS im Vergleich zu GTA III ein völlig neues Spiel
- es wird keine Flugobjekte wie Flugzeuge oder Hubschrauber geben
- Kleidungswechsel sind definitiv möglich
- Liberty City wurde um neue Areale erweitert
- die Bonus-Missionen als Krankenwagenfahrer, Feuerwehrmann etc. sind (natürlich) wieder dabei
- auch versteckte Päckchen, "Unique Stunts" etc. sind dabei
- GTA: LCS enthält alle Autos aus GTA III und alle Motorräder aus Vice City
- die Reflektionen auf den Autos sind besser als in San Andreas (PS2)
- die Spieldauer ist mit Vice City vergleichbar
Bis auf die fehlenden Flugobjekte machen die neuen Informationen große Lust auf den neuen Titel und Sonys kraftvollen Handheld. Wir hoffen, dass Rockstar Games schon bald erste Screenshots im Internet veröffentlicht.
Fill out this formular in order to register on GTAinside. After registration you will get access to additional functions like posting comments and your own favorite mods list! The membership is completely free.
Please fill out the whole formular and don't forget to enter a valid email address to be able to verify your account.