News
More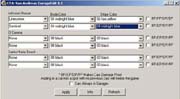 Stolz können wir euch einen Tag vor dem Release von GTA San Andreas bereits das erste große Download-Update zum neuen Action-Hit von Rockstar Games präsentieren. Zwar handelt es sich nur um kleinere Mods & Tools, aber diese sind für den Anfang bereits äußerst viel versprechend. So gibt es drei kleine Mods, die einige interessante Änderungen generieren. So könnt ihr alle Bewohner von San Andreas zu senilen Rentnern machen, das Meer in eine riesige Eisfläche verwandeln oder für Anarchie auf den Straßen sorgen!

Außerdem haben wir zwei Tools für euch. Das erste Programm ermöglicht euch die freie Auswahl an Fahrzeugen in eurer Garage. In einer konfortablen Menüoberfläche stellt ihr ein, welches Auto in der Garage stehen soll. Selbst Unzerstörbarkeit lässt sich für die Autos aktivieren! Mit dem zweiten Tool könnt ihr das Wasser verändern. Die Wellen als auch der Wasserstand lassen sich beliebig verändern. Wer also San Andreas unter Wasser setzen will, der ist bei diesem Tool genau richtig! Erwähnenswert sich auch nochmals die zwei Trainer für San Andreas, die euch das nervige Eintippen von Cheats ersparen. Und nun folgt die erste Übersicht eines reinen SanAndreas-Updates:

MODS:
- Ice Mod (GTA:SA)
- Slow Peds Mod (GTA:SA)
- Chaos Mod (GTA:SA)

TOOLS:
- Water Level Customizer (GTA:SA)
- Garage Editor (GTA:SA)

TRAINERS:
- ReVOLVeR DoX +4 Trainer (GTA:SA)
- GTA:SA Money Trainer v0.1 (GTA:SA)

Einige von euch können die neuen Dateien gleich ausprobieren, für alle anderen tragen die neuen Dateien hoffentlich zur Steigerung der Vorfreude bei!
Fill out this formular in order to register on GTAinside. After registration you will get access to additional functions like posting comments and your own favorite mods list! The membership is completely free.
Please fill out the whole formular and don't forget to enter a valid email address to be able to verify your account.