News
More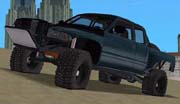 Die letzten Tage auf GTAinside standen ganz eindeutig im Zeichen der E3. Viele interessante Neuigkeiten zu GTA gab es zu verzeichnen, aber unsere regelmäßigen File-Updates haben wir deshalb natürlich trotzdem nicht vergessen. Zwei neue Cars und ganze drei neue Bikes haben wir heute für euch aufgespürt. Hier die Übersicht:

CARS:
- Dodge Ram Prerunner (GTA3)
- VW Kuebel (GTA3)

BIKES:
- Lowrider Bike (GTA:VC)
- FTR Custom v3 (GTA:VC)
- Black Death (Harley Davidson) (GTA:VC)

Viel Spaß mit den neuen Files!
Fill out this formular in order to register on GTAinside. After registration you will get access to additional functions like posting comments and your own favorite mods list! The membership is completely free.
Please fill out the whole formular and don't forget to enter a valid email address to be able to verify your account.