News
More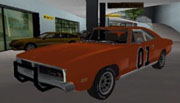 Trotz der nahenden Veröffentlichung der PC-Version von GTA San Andreas ist die Modding-Community noch immer fleißig damit beschäftigt, den Vorgänger kunstvoll zu modifizieren. Daher gibt es auch am heutigen Samstag viele neue Dateien. Darunter zu finden einige tolle Autos, eine "Xbox-Like"-Mod (die die Grafik etwas aufwertet) und auch ein "San Andreas Wallpaper" zur Einstimmung auf den 10. Juni. Folgend eine Übersicht aller neuen Dateien:

CARS:
- Dodge Charger (General Lee) (GTA3)
- Ford Mustang 2005 GT "Beach" (GTA3)
- Renault Clio 1.4 (GTA3)
- Holden a9x Torana (GTA3)

MODS:
- "Xbox like"-Mod (GTA:VC)
- Gta San Andreas Gang Outfits (GTA:VC)

WALLPAPERS:
- SA Wallpaper (GTA:SA)

Ich wünsche euch viel Spaß mit den neuen Dateien und ein schönes Wochenende!
Fill out this formular in order to register on GTAinside. After registration you will get access to additional functions like posting comments and your own favorite mods list! The membership is completely free.
Please fill out the whole formular and don't forget to enter a valid email address to be able to verify your account.