News
More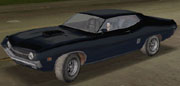 Der Release von GTA San Andreas für den PC liegt nur noch etwas länger als einen Monat entfernt und die neuen Screnshots (siehe ältere News von heute) sehen einfach atemberaubend gut aus. Doch noch treiben sich PCler in Liberty City und Vice City rum. Damit sich dieser Aufenthalt besonders angenehm gestaltet, haben wir ein weiteres Mal neue Dateien für euch:

CARS:
- Terex Titan 33-19 dump truck (GTA:VC)
- Ford Torino `70 (GTA:VC)
- Ford Torino `70 "Extreme Rust" (GTA:VC)
- AudiS2 (GTA3)
- Daewoo Cielo (GTA3)

MODS:
- Afisha Street (GTA:VC)

WAFFEN:
- Waffe M4-Scorpion (GTA:VC)

Viel Spaß mit den neuen Dateien. Bei Installationsproblemen wendet euch wie gewohnt an das Forum, Fragen in den Kommentaren oder dem Gästebuch werden nicht beantwortet.
Fill out this formular in order to register on GTAinside. After registration you will get access to additional functions like posting comments and your own favorite mods list! The membership is completely free.
Please fill out the whole formular and don't forget to enter a valid email address to be able to verify your account.