News
More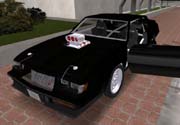 Am heutigen Mittwoch wollen wir euch euer Leben in Liberty & Vice City mal wieder mit einigen neuen Files versüßen. Besonders Fans von klassischen Autos kommen auf ihre Kosten:

CARS:
- 1932 Ford Ratrod (GTA3)
- Jaguar XJS (GTA3)
- '87 Buick GNX Pro Stock (GTA3)

SKINS:
- Sailor Skin (GTA:VC)

Viel Spaß mit den neuen Dateien, bei Problemen wendet euch bitte an die Experten in unserem Forum.
Fill out this formular in order to register on GTAinside. After registration you will get access to additional functions like posting comments and your own favorite mods list! The membership is completely free.
Please fill out the whole formular and don't forget to enter a valid email address to be able to verify your account.